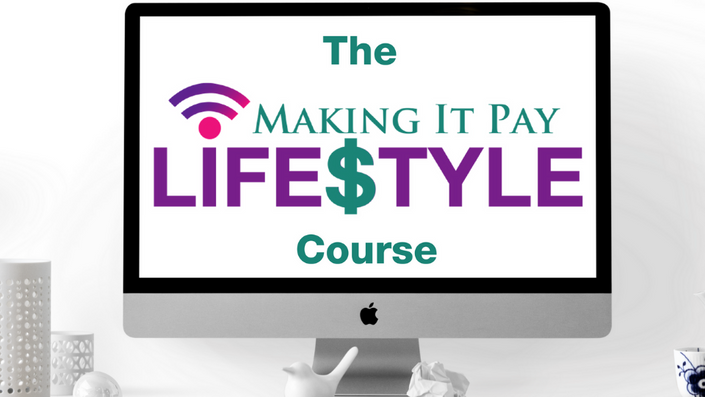 The Making It Pay Lifestyle Course
Start an Online Business From Scratch
The online course that will teach you everything you need to know to start making money online from wherever you want.
Do you dream of setting your own hours and working from anywhere in the world?
It could be from an all-inclusive resort in Mexico, in bed in your pajamas, or at the park while your kids enjoy the playground.
Do you long to walk away from your boring and life-sucking day job and, instead, choose when you work, where you work and how much you work?
Do you dream of doing work that's needed, you're excited about while earning great money at the same time?
I've been doing that as a Digital Marketer, Etsy Store Owner, Blogger, and Virtual Assistant since 2010.
I may have started out only making $300-$500 a month (hey, that's a decent chunk of change), but I've now grown my virtual assistant business to bring in thousands per month while working from home on my own terms.
That's not including the income from my blog or Etsy store.
That's JUST with my virtual assistant business.
You see, I now have a team to help me so I can do more, such as teach others (JUST LIKE YOU) how I've grown my businesses to replace most people's 9-5's while working anywhere and as little as possible. My mission is to empower others to do the same.
This course is designed to teach you everything from scratch. Whether you have no idea how to do anything or are trying to grow, this is what you've been waiting for!

YOU'LL LEARN BABY STEPS THAT ARE BUILT INTO 20 LESSONS HELPING YOU TO…
Get Started the Right Way: The simple, but much-needed legalities to separate your business from your personal assets. Learn how to research names, make sure they're not copyrighted, registered or trademarked, and how to get an EIN, set up your LLC, bank account, and more!
Check Things Off Before You Start: If you haven't set a good foundation, this is for you! If you are just starting, you'll be grateful for this once you get down the road in your business. Do things properly from the beginning to grow quickly.
Secure Your Website Domain and Set Up a Professional Email: Step-by-step instructions with the easiest and most affordable ways to claim your real estate online.
Make It PAY: If you're going into business, you need convenient options for people to pay you. Reviews of payment processors and how to connect them to your bank accounts. I've even got some MAJOR discounts on fees for transactions you accept online!
Brand Properly and Maximize Social Media Profiles: You'll learn which colors will best represent your brand, how to be consistent across your website and social media platforms, and how to properly set up your social media platforms that will appeal to your target audience.
Create Your Website: This is one area I see many new business owners struggle with, or outsource to others for thousands of dollars. There's no need for that! You'll learn my favorite user-friendly options, themes, how to set up your website, what pages you need on your site, and how to use SEO properly on pages and blog articles.
Know the ins and outs of Email Autoresponders and Newsletters: Learn how to choose between a few of the best options, how to set them up, what you should send to your subscribers, how often, and how to build your email list quickly and painlessly!
Excel at Blogging: Discover why blogging will drive people to your website, learn how to track which posts are outperforming the rest with Google Analytics, how to implement SEO in blog posts for more organic traffic, and how often to blog.
Use Best Practices and Implement Tech for Email Marketing: Once you have your email autoresponder and lead forms set up, now you need to know what to send to your email list, how often, and why. This is all covered in the course.
Succeed at Social Media Marketing: Nope, you don't need to pay someone else to do this for you, unless of course you really want to! Learn how to use social media to your advantage, which image sizes do well on each platform, what to post, how often to post, when to post, and how to post (and even how to batch create posts and automate them). It's a mini-course all in itself and it's included.
Know Your Worth by Changing Your Mindset: This course talks a lot about how having the right mindset about your worth and money can make or break you. We'll delve into how to price your services (even if you feel like it's too much), how to position yourself as an expert, how to get more by giving more value, and how to package your services or products.
Find more customers: I'll show you WHERE to find customers/clients, how to send a proposal, and onboard a client (I give you my customizable templates) if you're a service provider.
Discover the Joy of Project Management: If you really want to grow your business, you need to create systems and automate things that can be duplicated by someone else eventually. Learn my favorite tools for doing this, best productivity practices to work smarter not harder, and how to implement systems.
Parse Health Insurance Options: A huge reason many people are hesitant to leave their 9-5 is that of benefits. It doesn't have to be that way! I'll show you many options for you (they're more affordable than you think) and where to apply. I don't recommend going without, but I'll give you some inside tips on how to save BIG!
Make Sense of Taxes and Bookkeeping: Nope, you don't need to be an accountant to figure this out. I make it super simple to track your expenses and profit, provide multiple price-point options for virtual bookkeeping, and even tax prep. If you've been on the fence because of this, there's no need to worry anymore.
Get Access to Invaluable DOWNLOADABLE BONUSES: You'll get instant access to thousands of dollars worth of bonuses to every course member because I want this to be as easy as possible for you! Steal my templates, my marketing secrets, my email templates, my ways to make a ton of money while saving time! How to build your email list, how to drive more traffic to your website, proposal templates, welcome kit templates, 350 non-sleazy sales, and marketing tactics, and that's just the beginning!
Stay Accountable With Weekly Coaching Calls: This is not something you'll find with any other "similar" course! Course members get access to a PRIVATE Facebook group where I ask you to post your questions for weekly coaching calls. If there's something in the course you need me to go deeper on, I'll go live and/or provide a tutorial for you. Think of me as your business coach and mentor!
If you've been putting off the dream of a business and lifestyle built around flexibility and freedom, this course is what you've been waiting for!
You'll have lifetime access to this course, and it's self-paced so you don't need to cram or keep up with anyone else!
BEFORE YOU KNOW IT, YOU'LL BE:
Feeling empowered to design your Making It Pay Lifestyle
Enjoying the freedom of working from wherever you want
Loving that you're bringing in moolah on your own terms
Relishing the flexibility to be with your kids, grandkids, pets, spouse, or yourself!
Planning vacations without asking for permission
Replacing your 9-5 income with something more fun, profitable, and sustainable
But, don't take my word for it, take a look at what some recent graduates have to say...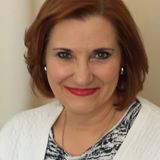 Bonnie Lynch, Progress Toward Prosperity
"Through Sherri's course, I was able to set up my own business, step by step from the process of filing all the paperwork needed to start a business to learning effective means of marketing my online business. The course is truly comprehensive. Every step is absolutely packed with information! Video tutorials explain each topic along with extensive resources to fully guide you to completion. But even more so, her intelligence, her wide range of knowledge and her willingness to share that in tutorials, all amaze me. She shows patience with those less capable and strives to meet each challenge we present. She is a person of integrity who will go to the ends of the earth to help you meet your goals. She recognizes our fear of stepping out of our comfort zone and offers encouragement to believe we can do it. She remembers what it is like to be a new business owner, and always includes free or low-cost options to get you started with minimal expenses. But even more important is the support you will receive in the weekly live coaching call based on your questions as you proceed through the course. If Sherri doesn't already have it explained in the course, she will do a video tutorial for you regarding the specific topic about which you have questions. It is like having your own personal business coach!"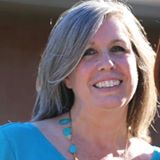 Carol Agate, ASVirtually and Organize My Offices
Hey everyone, I thought I would jump on here and give a little testimonial for the Making it Pay Lifestyle Course!!! (I was not prompted to do this and am not sure it is even allowed
😉 ) I watched Sherri's promo video I think back in February or March as I knew my main job was about to take a turn. I signed up to get her newsletter and waited as I wasn't sure I wanted to invest in the course (mostly b/c my income was about to be cut). But then I thought, I would take the plunge so I did. I pretty much devoured the videos and started my own Office Organizing Business in April. I ultimately wanted to become a VA because I like to travel and I have 2 kids that live out of state and love the freedom of visiting them. So in early July I took another plunge and started my VA business. As of this week I have signed 2 clients which has replaced my income even though I am working less hours!!! I still have time in my week to add more clients and still only work part time!!! If you are on the fence as to taking her course, I would suggest that you do!!! You will learn a lot AND she is always available for your questions!!! Sherri loves to see us succeed and is not only a great teacher but a great encourager!! Ok, that is my plug for the Course
Have a great week!!!
Your Instructor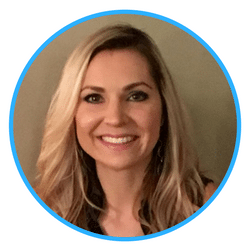 Sherri Stotler, the founder of iAssist Virtually, is an entrepreneur, wife, and mom. Knowing how frustrating it can be to be productive and effective with 24 hours to work with, she set out to help other business owners succeed. She's also the owner of the blog Making It Pay To Stay. In her spare time, she dabbles with her Etsy Store, Alexis Brooke Lane and loves learning new skills.
With over 15 years of experience in website design, marketing, and administrative assisting (both onsite and virtually), with a specialty in project management, she launched the
Making It Pay Lifestyle Course
in 2018 to help others create a remote online business that enables freedom and flexibility.
Frequently Asked Questions
When does the course start and finish?
The course starts now and can be completed as fast or as slowly as you like. It is a completely self-paced online course - you decide when you start and when you finish. However, weekly coaching calls will take place for up to 20 weeks, once per week. It's much more helpful for everyone to get traction by taking action! By implementing one step per week, with coaching and encouragement from other students, you're much more likely to have success. It's completely up to you though!
How long do I have access to the course?
How does lifetime access sound? After enrolling, you have unlimited access to this course for as long as you like, as long as the course has not been retired - across any and all devices you own. Even if you finish, as long as the course is still available, you can come back for a refresh, re-watch videos, and access all coaching calls.
What if I am unhappy with the course?
I would never want you to be unhappy! If you are unsatisfied with your purchase, contact us in the first 7 days and we will give you a full refund. No refunds will be given after 7 days.
So there you have it!
I've created multiple online businesses, some are still a side hustle, some are making more than the average american salary. None of them require me to commute or work full time. All of them allow me to do what I love, learn a lot, work with amazing people (I hope you'll be one of them!) all in the comfort of my home office.
Meandering with a hot cup of coffee in my fuzzy pajamas to enrich, empower, and encourage others with this course has been life changing.

Helping my clients grow their businesses and help them strategize and implement new ideas to grow their profits, provides me with not only a great living, but a sense of purpose. I want that for you!
This course was launched to a small group of people in 2018 and it took the better part of three months to create (after years of learning and testing).
If you want to start an online business, this is the course for you. If you want to learn how to be a Virtual Assistant, you are SET. If you want to be a Freelancer with a huge array of skills to offer clients in various industries, you'll be ready to launch after this course. If you merely want to create, sell, and market digital products (such as downloads, courses, ebooks) properly, you'll be fully equipped. If you really just want a side-hustle or want the ability to produce extra income on demand when you feel like it, you'll be quite pleased with this course as well!
If you want a step-by-step course that will save you THOUSANDS of DOLLARS and THOUSANDS of hours trying to piece-meal things together on your own, here it is.